Multilingual ÖIF info service
For information regarding COVID, the ÖIF staff are available for you! Click here for more information on the multilingual info service.
Coronavirus safety measures in 17 languages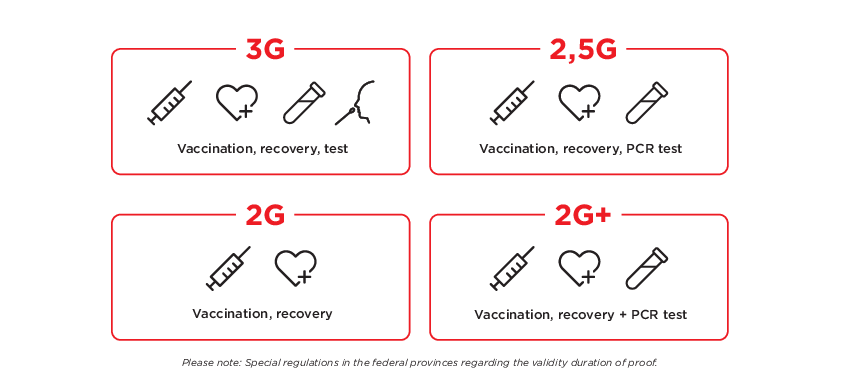 The website is continuously updated and expanded with new information.
Information updated: 29.08.2022
Information on the coronavirus vaccination

All those who live in Austria may receive a free vaccine in Austria to protect them against coronavirus. Registration for the coronavirus vaccine must be carried out via the vaccination platform of the federal states at www.oesterreich-impft.at/jetzt-impfen.

As part of the online consultation "Coronavirus chat: lockdown and vaccination", the ÖIF provides information on the measures currently in place as well as on the vaccination to protect against coronavirus. For people with insufficient knowledge of German, the consultation sessions will be interpreted. Participation is free of charge and does not require registration. All dates can be found at www.integrationsfonds.at/onlinekurse.

Click here for online advice on all aspects of COVID-19.
COVID-19 Protective Measures
The following facilities may not be entered by persons who have tested positive:

Health facilities
Retirement and care homes, and residences for handicapped persons
Playschools, nurses and crèches, and daycare centres for children under the age of 11 incl. child minders
Primary schools

This does not apply to: employees, residents, patients, visitors with palliative, hospice or spiritual welfare-related tasks, persons accompanying critical life events and minders of minors or in the event of childbirth.

Workplaces may not be entered, if it is not possible to continuously wear an FFP2 mask. This applies:

for medical reasons, particularly in case of pregnancy
if work tasks cannot be carried out (e.g. speech therapists)

TESTED

Negative result of an antigen test from an authorised facility ("Österreich testet"); valid 24 hours from test
Antigen test for own use ("home test") that has been recorded in digital form: valid for 24 hours from sample
PCR test: valid 72 hours from test

The following are not deemed to be proof of testing:

antibody test
self-test at home
Exemption from the test obligation.

Testing cannot be reasonably expected for health reasons or due to a disability (e.g. in the case of dementia)

RECOVERED

Medical certificate of recovery from infection: valid for 6 months from date of issue
Quarantine notice: valid for 6 months from date of issue

VACCINATED

Second vaccination: valid for 6 months
Recovery (positive PCR test or antibodies) and one vaccine dose: valid for 6 months – from 12 September 2022 no longer valid proof
Booster shot (3 vaccine doses or recovery and 2 vaccine doses): Valid for 1 year
Obligation to present proof of 3G (tested, vaccinated, recovered) for children aged 12 and over
Exemptions from the requirement to provide proof of 3G:

persons who cannot be vaccinated for health reasons
pregnant women

The forms of proof must be presented in German or English.

PLEASE NOTE: The falsification and use of falsified COVID test certificates, certificates of recovery and proofs of vaccination are criminal offences in Austria. Possible consequences: Fine and/or imprisonment

Choose only official test centres for your COVID tests!

In the following areas and establishments, an FFP2 mask must be worn in closed spaces:

Hospitals
Old people's homes and care homes
When using healthcare services

If a person has tested positive for COVID-19:

in closed rooms, if there is another person present, unless the room is aired on a regular basis
outdoors and in private residences, if it is not possible to keep a minimum distance of 2 metres to other persons
continuously at the workplace
in public transport
in cars, if there is another person present, unless the car is aired on a regular basis

Information on the Obligation to Wear a Mask

Children under the age of 6 do not have to wear a mask.
Face masks for children from 6 to 14 years of age. FFP2 masks compulsory for children from 14.
Exemptions from the obligation to wear an FFP2 mask:

health-related or disability-specific reasons (then mouth-and-nose protection or other closely fitting mechanical protection device; if this cannot be reasonably expected, face shield) – medical confirmation is required
Therapeutic educational reasons
While providing a service in close physical proximity (if required without a mask)
While providing or receiving speech therapy
While eating and drinking
During sports and in damp areas (e.g. showers, indoor swimming pools)
Pregnant women (face mask instead)
People who are deaf or hearing impaired, in communication with others

3G rule and mandatory FFP2 masks for employees in the health sector
→ Attention: Special regulations in Vienna → "Regional measures in Vienna"
In justified cases, stricter requirements by employers are possible.

Staff (also applies for mobile care and assistance): proof of 3G and FFP2 mask for direct contact with residents, unless protective measures are in place (e.g. plexiglass walls)
Visitors: proof of 3G and FFP2 mask in indoor areas
Residents of old people's homes and care homes: proof of 3G or other organisational precautions (e.g. quarantine measures) before new admission, FFP2 mask in common areas
Residents of homes for people with disabilities: proof of 3G
Patients at medical facilities and sanatoria: FFP2 mask
In other places where healthcare and nursing services are provided: Patients, visitors, accompanying persons and staff must wear an FFP2 mask, unless protective measures are in place (e.g. plexiglass walls)

NECESSARY INTEGRATION MEASURES OF THE AUSTRIAN INTEGRATION FUND (ÖIF):

Participation is only possible with 3G proof and an FFP2 mask!

GATHERINGS

For events with more than 500 people:

Develop and implement COVID-19 prevention concept
Appoint COVID-19 officers

This does not apply for:

Funerals
Assemblies according to the Act on Assemblies and Processions (demonstrations) – an FFP2 mask must be worn even outdoors
Professional meetings that cannot be delayed
Meetings of committees of political, legal parties or committees related to Industrial Constitution Law that cannot be delayed
Attending theatres, concert halls and arenas, cinemas with a vehicle
for events in private residences
REGIONAL MEASURES FOR VIENNA
FFP2 masks are still obligatory in:

Public transport – throughout the entire journey, at stops and waiting areas
Public pharmacies

The following applies in the health sector:

Negative PCR test and mandatory FFP2 mask for visitors in old people's homes, care homes, hospitals and health spas

this applies to children aged 6 and older
this does not apply to people who have recovered after 15.1.2022, for a period of 2 months following the end of the infection

Proof of 2.5G and mandatory FFP2 mask plus 2x weekly negative PCR test for employees in old people's homes, care homes, hospitals and health spas

PCR test: valid for 48 hours